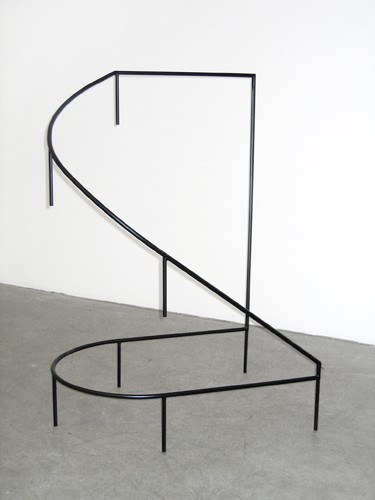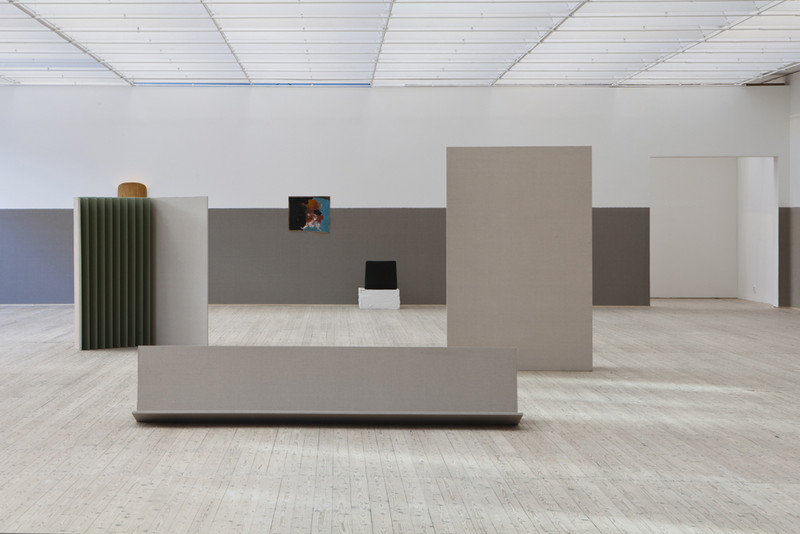 Thea Djordjadze, The easy isn't done easy, 2007, Coated steeland Installation view, Our full, Malmö Konsthall, 2012
It's rare that art as apparently spartan as Thea Djordjadze's can be so tantalising. The thin wooden or metal frames and glass vitrines that frequently star in her sculptural assemblages suggest a minimalist sensibility and evoke the pristine, poker-faced displays of museums. Yet these elements of her art rub shoulders with more worn-in, personal fare, including rugs, reconfigured furniture and rough, hand-moulded lumps of uncooked clay. Things look fragile and faded, like relics from a lost civilisation.
Djordjadze's materials are worked fast and arranged intuitively, with an eye for colour, texture and lines drawn through space that hints at her early training as a painter. Growing up in former communist Georgia has also left its mark on the Berlin-based artist's sensibility. Her work often features the country's local carpets, while its pared-back appearance and flimsy materials echo the clean, definite forms of eastern-bloc architecture, belying a shaky political regime. In place of modernist purity, she creates poetic, allusive arrangements of objects, hinting at stories that never sit still.
Thea Djordjadze (born 1971 in Tbilisi, Georgia) lives and works in Berlin. She studied at the Academy of Arts in Tbilisi from 1988 to 1993. The academy closed in 1993 due to the Georgian civil war. Djordjadze moved to Amsterdam to study at the Gerrit Rietveld Academy. After a year she moved to Düsseldorf, where she studied at the Staatliche Kunstakademie until 2001. Selected solo exhibitions: The Common Guild, Glasgow (2011), westlondonprojects, London (2009-2010), Kunsthalle Basel (2009), Kunstverein Nurnberg (2008). Selected group exhibitions: dOCUMENTA (13), Kassel (2012), Carré d'Art, Musée d'Art Contemporain, Nîmes (2011), Sculpture Centre, New York (2011), Hayward Gallery, London (2010), Centre Georges Pompidou, Paris (2010), Barbican, London (2008), the BB5 – 5th Berlin Biennial for Contemporary Art (2008), Venice Biennale (2003).
http://artnews.org/konsthallmalmo/?exi=36232