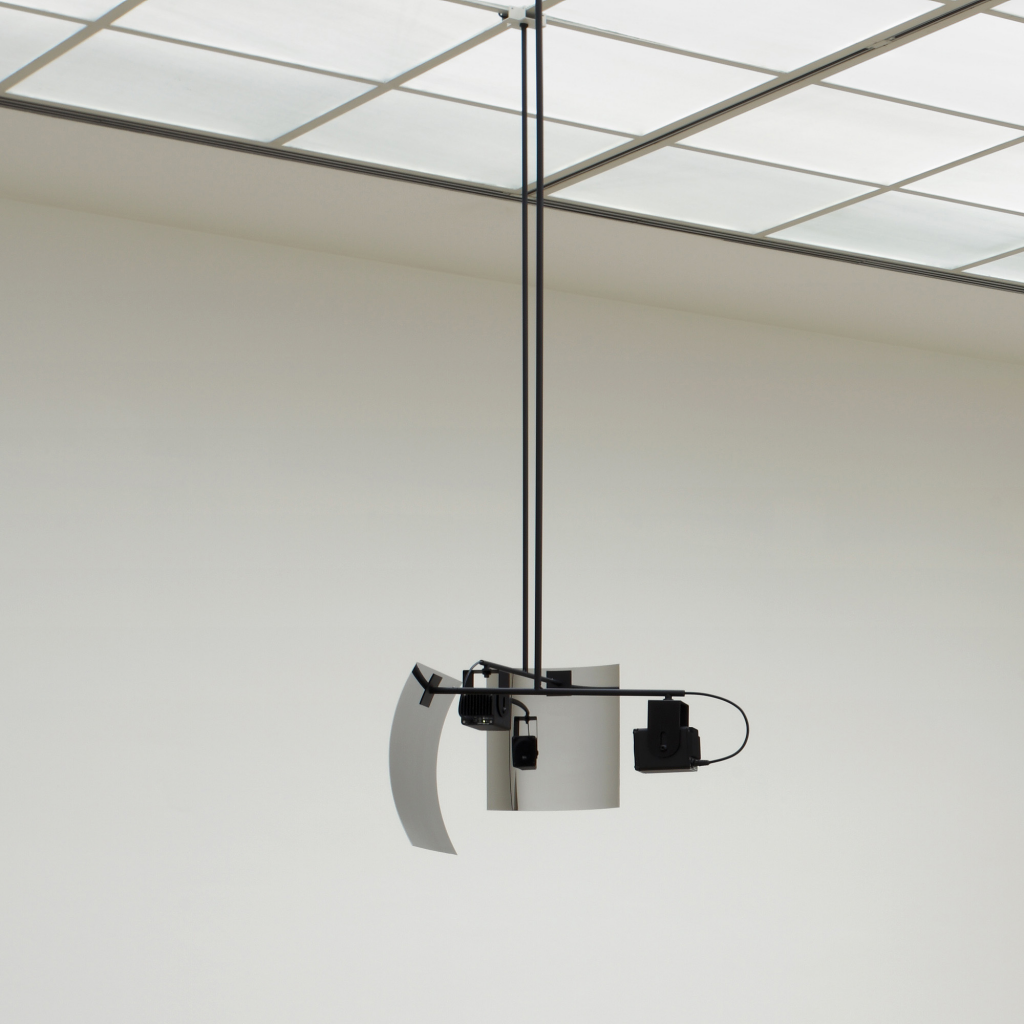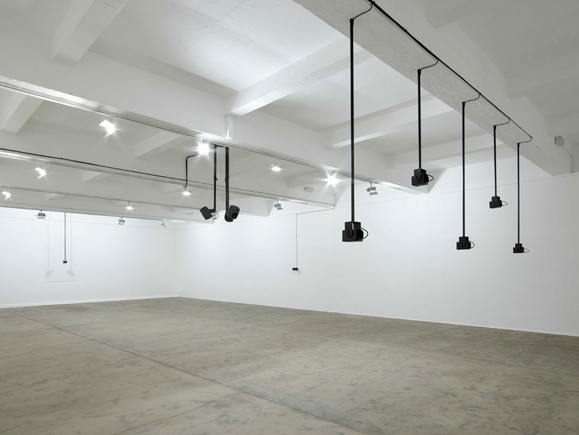 Florian Hecker, Chimerization, 2013, Event, Stream, Object, 2010 and Installation view at Chisenhale Gallery, 2010
The subjective dimensions of sound underpin Hecker's investigations. His installations shift and vary depending on the listener, both in terms of each individual's physical location and his or her personal biases and points of reference. Hecker takes as a starting point the fact that listening is often driven by a desire for understanding—it is an attempt to make associations, to recognize sounds as familiar, to slot what we hear into known categories. In Affordance, the variations between the three channels of the work protract and complicate this listening experience. Hecker has composed a three-channel piece in part to interrupt what he has called "bifurcated listening." With a two-channel work, a viewer would be able to stand centrally and listen to the entire piece at once; with three speakers, movement and memory are necessary for understanding the piece as a whole.
It may be impossible to create a rational presentation of hyperchaos because hyperchaos may not be experienceable. While any composition has a finite duration, "hyperchaos is a theory of time, a theory to show that time is not becoming," as Meillassoux puts it, which we understand as a sort of continuity or reference to the infinite nature of the universe. And, achieving real disorder is impossible anyway, "because disorder is just another form of order than the one you expect," where fast-moving sound is a cliché of randomness and merely another form of organization. Florian Hecker's performances delivers a perfect combination of theoretical underpinning and drop-dead digital disorientation.
Florian Hecker was born in 1975 in Augsburg, Germany. In his sound installations and live performances, he deals with specific compositional developments of post-war modernity, electro-acoustic music, and other, non-musical disciplines. He dramatizes space, time and self-perception in his sonic works by isolating specific auditory events in their singularity, thus stretching the boundaries of their materialization. Their objectual autonomy is exposed while simultaneously evoking sensations, memories, and associations in an immersive intensity. Hecker studied Computational Lingusitics and Psycholinguistics at Ludwig Maximilian Universität, Munich and Fine Arts at the Akademie der Bildenden Künste, Vienna, where he received his diploma.
Solo exhibitions include: Sadie Coles HQ, London, MD72, Berlin, Lumiar Cité, Lisbon, all in 2012; MMK, Museum für Moderne Kunst, Frankfurt am Main, Germany; IKON Gallery, Birmingham; and Chisenhale Gallery, London, all in 2010, and Bawag Contemporary, Vienna, 2009. Some of the group exhibitions and projects Hecker has participated in include dOCUMENTA (13), Kassel, Germany; Push and Pull, MUMOK, Vienna, 2010; Evento, Bordeaux; Thyssen-Bornemisza Art Contemporary; The Kaleidoscopic Eye, Mori Art Museum, Tokyo; UBS Openings: Saturday Live: Characters, Figures and Signs, Tate Modern, London. His most recent collaboration with Cerith Wyn Evans, No night No day, was premiered at the Teatro Goldoni as part of Fare Mondi, the 53rd Venice Bienniale, in 2009. Other group exhibitions appeared at Manifesta 7, Trentino – South Tyrol, Italy; Art unlimited, Art Basel; Experiment Marathon Reykjavik, Reykjavík Art Museum (2008); and with Cerith Wyn Evans, Lenbachhaus, Munich in 2006. His work has also appeared at Off the Record, Musée d'Art Moderne de la Ville de Paris, Paris; 3. berlin biennale für zeitgenössische kunst, Berlin, (2004); the 2nd International Biennial for Contemporary Art, Gothenburg, 2003; and Mutations, TN Probe Gallery, Tokyo and Ausgeträumt…, Secession, Vienna both in 2001.
Text: http://act.mit.edu/people/faculty/florian-hecker-4/, http://www.moma.org/interactives/exhibitions/2013/soundings/artists/4/biography/ and http://www.grahamfoundation.org/public_events/3904-florian-hecker.
All images belongs to the respective artist and management.