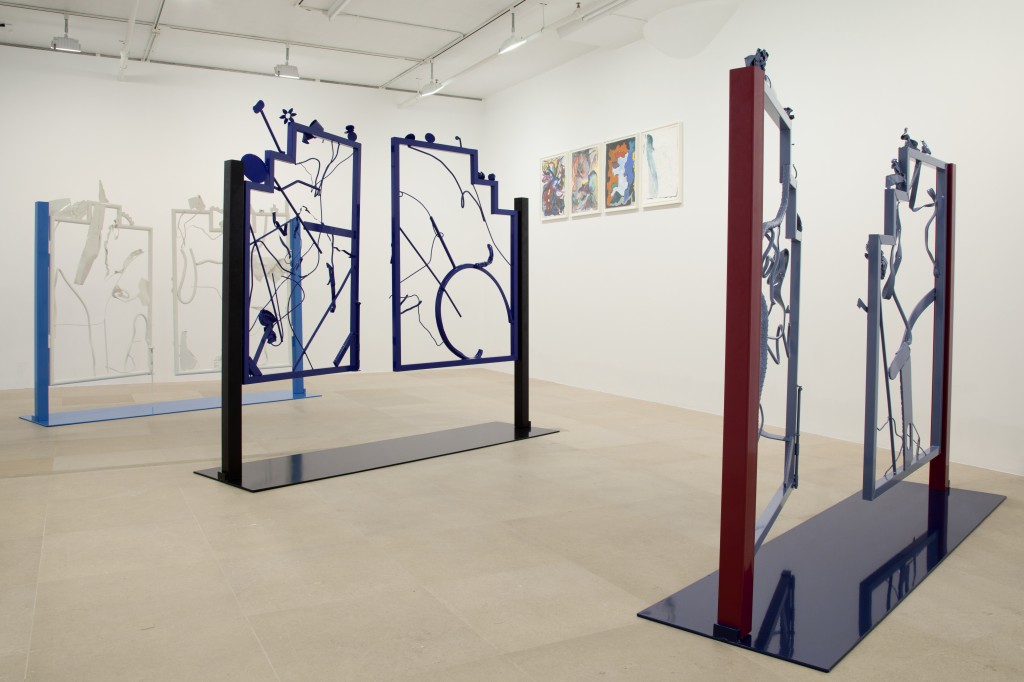 Ida Ekblad, Untitled 2012,  Untitled, 2011 and Installation View, Untitled, 2011
Norwegian artist Ida Ekblad just finished her solo exhibition at the Museum of Contemporary Art Oslo this week. In the official press release her work  is referred to as being "frequently process oriented and her artistic practice is often described as spontaneous and chance-based.  Items seemingly discarded on scrapheaps as worthless are given new meaning through recycling in a work of art with other qualities and connotations. Her works oscillate between an unrestrained imagination and her familiarity with, and allusions to, an art-historical tradition."
For this exhibition, Ekblad used the museum as her studio, producing more than 30 works in situ. These new works improvise a performative architecture out of industrial debris, found objects and shopping carts. Reference to John Chamberlain and Anthony Caro can be noted as Ida Ekblad present her version of scrap-hunting sculpture. As the shopping charts where rolled onto canvas and paint, each shopping chart has  its own specific painting which is displayed later as a series of large scale paintings along the walls.
Also exhibited was Ekblad's paintings of the past five years, in particular, are courageous demonstrations of the relevance and feasibility of an expressive artistic gesture. She works in a variety of media. Painting, sculpture, installation, performance, and poetry, simultaneously and without hierarchical distinction.
Ekblad works in a process-oriented manner, and her approach is often described as spontaneous and fearless. She creates installations, sculptures and collage- and assemblage-like pieces from fragments and objects that she finds along the roadside and at construction sites nearby the places she is working. Things that have apparently lost their value and been thrown away often acquire a new meaning by being re-used in a work of art imbued with other qualities and connotations.
Ida Ekblad (b. Oslo, 1980; lives and works in Oslo) is educated at the Oslo National Academy of the Arts, 2007, and at the Mountain School of Arts, Los Angeles, USA, 2008. Still an emerging artist, Ekblad has already received international recognition participating in museum exhibitions around the world.
The exhibition is a collaboration between the National Museum in Oslo, Kunstmuseum Luzern and De Vleeshal, Middelburg. It is accompanied by a 160-page catalogue published by Distanz Verlag, Berlin, with poems by Ida Ekblad and contributions by Fanni Fetzer, Andrea Kroksnes, Quinn Latimer, and Barry Schwabsky.
Nasjonalmuseet presents Ida Ekblad's first extensive museum exhibition. The exhibition continues the museum's series showcasing younger Norwegian contemporary artists.