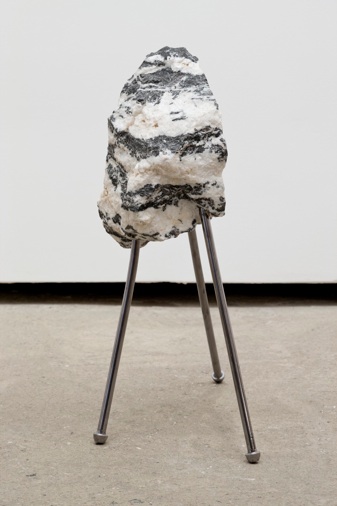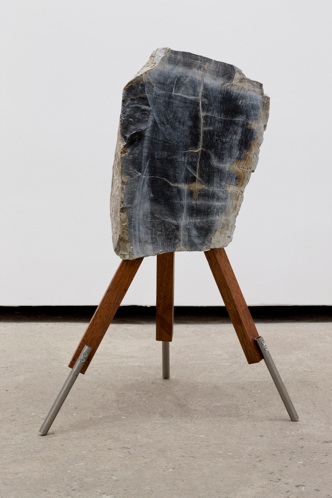 Benjamin Valenza at Salon 94 Freemans, New York, 2009 and Residue 01, 2011
Art Since the Summer of '69 is proud to present Twice upon a Time, Benjamin Valenza's first solo show in New York City. A large L- shaped yellow metal plate, deeply corroded by acid at four points, performs as an abstract panther in the show, or simply as an abstract painting. The work is the result of Valenza's experiments with materials and carelessness, or rather of his love of 'heavy duty' materials.
One could describe Valenza's method as working ' Hardcore Brancusi – ish'. From heavy duty, hardcore gestures to painstaking etching, Valenza will take his 'trademark' stones on legs to a new level, presenting a large black stone, engraved with a mysterious poem. The fifty-five pound heavy black alabaster rock will be presented on a large round pine tabletop and act as the center of the exhibition. Less anthropomorphic than the other stones Valenza has made, the black rock pays homage to Constantin Brancusi in its use of carving. Although Valenza does not carve the stone to let a form take shape and reveal the essence of an object or an idea. He simply carves words and leaves the shape of the stone intact.
Benjamin Valenza (b.1980 in Marseille, France) works and lives in Lausanne, Switzerland. He is a founding member of Galerie 1m3. He has exhibited at Fluxia Gallery in Milan, Castillo-Coralles in Paris, Hayward Gallery in London, Jan Winkelmann Gallery in Berlin, and Musee Cantonal Des Beaux Arts in Lausanne, among others.