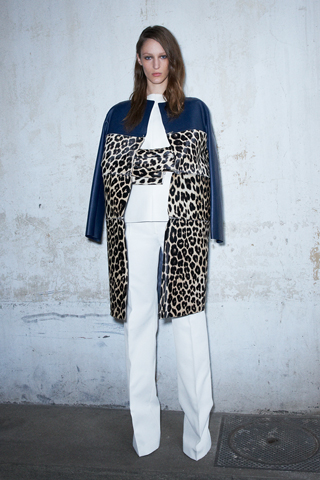 Phoebe Philo for Celine, resort 2013, June 2012
Three years into her run at Celine, Phoebe Philo has been mainstreamed. Her accessories have become the status symbol for the upwardly mobile woman—you can't go a block on the Upper East Side without bumping into a Luggage bag. For Resort, she's introduced two new shapes: the All Soft, a zipless, fold-over tote with a "baby" pouch inside, and the Edge, which as its name implies, has a more structured silhouette.
On the clothes front, this season wasn't so much a moment to introduce fresh ideas as it was to reassert house signatures. Leather continues to be of paramount importance. It was cut into variegated stripes for t-shirts and used on coats with horizontal panels that unzipped to create different silhouettes. Python featured too, most extravagantly as the patch pockets on a cashmere sweater. And scarf prints also made a reappearance, most interestingly on a pair of shorts and a shell top that were both veiled in a sheer white material.
If there's a piece that the Philo girl will have to have, it's the full, flaring trousers with deep stripes of contrasting color at the hem. The cut is great, for one, and two: Those in-the-know will instantly peg them as Celine. For a fashion insider, that produces the same kind of frisson as carrying a Luggage bag does for that Upper East Sider.