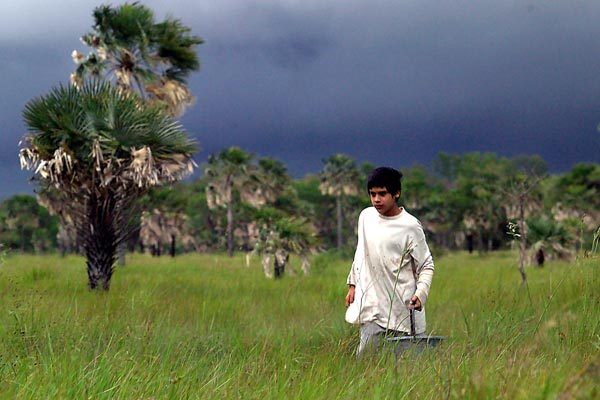 Nordeste film is a 2005 Argentina-French drama-thriller film directed by Juan Diego Solanas. It was screened in the Un Certain Regard section at the 2005 Cannes Film Festival. Felix Monti's widescreen cinematography shows drop-dead views of the misty green countryside that seems to stretch out endlessly.
This is a story about a childless Frenchwoman who travels to a remote region of Argentina in search of a baby to adopt, Nordeste film convincingly brings together the harsh reality themes from new Argentine cinema and a Western style of dramatic storytelling. On his feature directing bow, award-winning short filmmaker Juan Solanas shows a talent for compelling female characters, aided by an impassioned Carole Bouquet in the lead role.
Helene (Bouquet) leads a sales meeting for her pharmaceutical company before traveling to Argentina to adopt a child. Her journey is intercut with the tribulations of Juana (Aymara Rovero), a young single mother living in the Argentine countryside, who ekes out a precarious living for herself and her 13-year-old son Martin (Ignacio Ramon Jimenez).
When Helene's adoption arrangements fall through in Buenos Aires, she hears about the possibility of finding a child in the country's poverty-stricken Northeast. Young lawyer Gustavo (Juan Pablo Domench) warns her, however, it will be necessary to cut an illegal deal with child traffickers there.In her desperation, Helene is ready for anything: Much later, however, she will learn this area is infamous for its traffic in children: selling them for adoption, child prostitution or even organ traffic.
Meanwhile, Juana is pregnant again and is being evicted from her hovel. She struggles with the option of giving Martin up for adoption abroad, but she loves him too much to let him go.Inevitably, Helene and Juana meet. Juana has tried to abort her baby and comes to Helene for help. At the same time, Helene is given an opportunity to buy a newborn infant for $45,000. The film shows how cheap children's lives are to men who have no qualms about what happens to them and has a lot of points to make.
http://www.imdb.com/title/tt0398664/