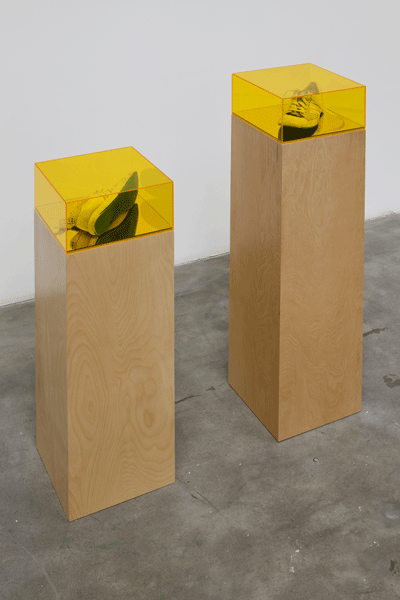 Tom Barr, Sentence, 2009
Tom Burr, Sentence, 10 September – 24 Oktober 2009
Bortolami, New York
There was no single work in Tom Burr's recent exhibition "sentence" that was truly emblematic of the whole, but one pair at least came close. The two sculptures his personal effects (White) and (Natural) (both 2009) demonstrate a bold juxtaposition of randomness and precision and a fascination with the aura of ephemeral objects that united all the pieces here. Enclosing two pairs of worn-out sneakers in Plexiglas cases, one per shoe, and placing them atop wooden pedestals of differing heights colored according to the works' subtitles, the New York- and Norfolk, Connecticut-based artist seems to have framed his exhibition as a meditation on entropy and loss, a series of forward steps that cohere only with a backward glance.
Tom Burr entered the picture then, back in the early 1990s when he started showing at Colin DeLand's American Fine Arts in SoHo. AFA had already presented the fences and aluminum panels of Cady Noland and the domestic-object based installations of Jessica Stockholder; across the street and around the corner, Felix Gonzalez-Torres put out strings of light and Jack Pierson hung tinsel. Within this context, Burr was an important new voice in the dialogue of institutional critique, exploring the politics of minimalism and politics at large that were at the forefront of artistic and social concerns—notably identity, society and the body, often dealing with issues of sexuality, war and the structures of public and private spheres.
One distinction of Burr's work that persists is his consideration of the ephemeral. This interest extends beyond time to all sensory experiences, which must be transitory by nature. He describes individual sculptures as 'moments' and thinks of their varied qualities in terms of musical notes, temperatures, and moods—qualities that cannot be trapped into the permanency of an object, but may be somehow suggested.