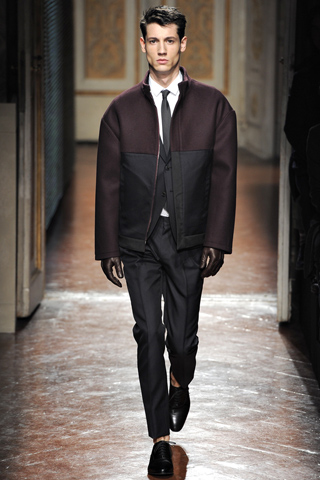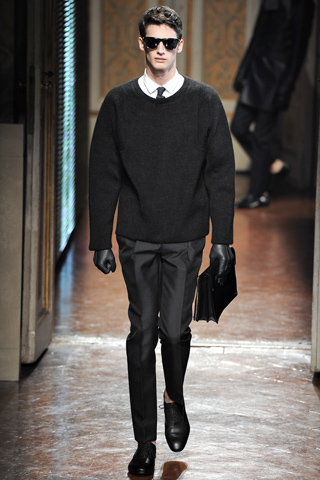 Maria Grazia Chiuri and Pier Paolo Piccioli for Valentino, Menswear, Fall 2012
Once upon a time, women had a dressmaker; men had a tailor. The law of supply and demand elevated those services into haute couture and bespoke, which have, ever since, been the summit of human achievement when it comes to cut and cloth. But they've also remained a Venus and Mars-style proposition, which gave Maria Grazia Chiuri and Pier Paolo Piccioli's proposals for the latest collection of Valentino's menswear a twinge of subtle subversion. Inject the spirit of couture into the traditions of menswear?
Well, Chiuri and Piccioli felt it was worth a try. They were, after all, the special invitees of the 81st edition of Pitti Uomo in Florence, and that honor usually inspires designers to stretch their creativity. In their case, there was an added impetus. Valentino staged his first fashion show in Florence 50 years ago, and the designers who carry on his name wanted to give their menswear a sense of his legacy. "Memory is very important to innovate," said Piccioli. "We wanted the same language in a different moment: the sharpness of shape, the belief in workmanship. We wanted to sculpt lightness."
Their mood board told the tale. Monochrome images of Mastroianni and Delon in the early sixties, at the pinnacle of their male gorgeousness, were echoed on the catwalk in leanly tailored jackets and narrow trousers cropped over sockless shoes. The sharpness of white shirts and skinny black ties amplified the sixties feel, but at the same time, they had the new-wave flavor that niggles at the edge of so much that Chiuri and Piccioli do. Not darkness or danger, insisted Chiuri. "It's something private. This is not a show-off collection. You need to look inside." That in itself is a criterion of traditional couture—that a garment could be so perfectly crafted that it would look just as good when it was turned inside out. And here that challenge was met with thermal sealing—or bonding—rather than seaming. Not only was the result surprisingly light, but the internal structure of jackets bonded with traditional horsehair linings was a joy to behold. Same with a black leather jacket bonded with cashmere or a peacoat bonded with shearling. The notion of life on the inside peaked with a green leather jacket that had a perfect little coin purse zipped into its interior. So perfect, in fact, that there was something obsessive bordering on fetishistic about the detail.
Piccioli did indeed acknowledge that "obsessive perfection" is a spur for him and his design partner. At the same time, they insist they understand how a confident mix of sportswear casual and tailored formal is the essence of modern menswear. Here, their version of the mix was evident in the way a coat was thrown capelike over a suit (it was "sportiest" in a glazed denim). The look had an almost sinister precision that felt like the very opposite of casual. On the contrary, the fact that Chiuri and Piccioli have faith that there is a young man who will follow them where they want to lead is reassuring in the current climate.
http://www.style.com/fashion-shows/fall-2012-menswear/valentino