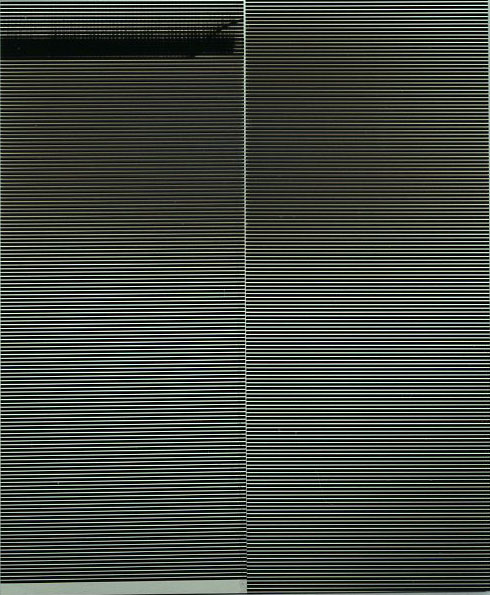 Wade Guyton, Untitled, 2007
It's amazing that you can become one of the leading artists of your generation by messing with the limits of a home-office printer. That's what 37-year-old artist Wade Guyton has managed to do ink-wise in the past decade.
Going from paper to linen, running, or rather, pulling, gigantic swathes of fabric through the ink-jet printer while it reads from a computer file, Guyton lets the printer cause the aberrations and pattern glitches that run across his muddy canvas.
Over the past decade, New York–based artist Wade Guyton (b. 1972) has pioneered a groundbreaking body of work that explores our changing relationships to images and artworks through the use of common digital technologies, such as the desktop computer, scanner, and inkjet printer. Guyton's purposeful misuse of these tools to make paintings and drawings results in beautiful accidents that relate to daily lives now punctuated by misprinted photos and blurred images on our phone and computer screens. Comprising more than eighty works dating from 1999 to the present, Guyton's first midcareer survey features a dramatic, non-chronological design in which staggered rows of parallel walls confront the viewer like the layered pages of a book or stacked windows on a monitor. The exhibition includes paintings, drawings, photography, and sculpture, and concludes with two spectacular new canvases, stretching up to fifty feet in length, which Guyton created specifically for the Whitney's Marcel Breuer–designed building. The title, Wade Guyton OS employs the common acronym for a computer's "operating system," linking Guyton's art to the technologies of our time.