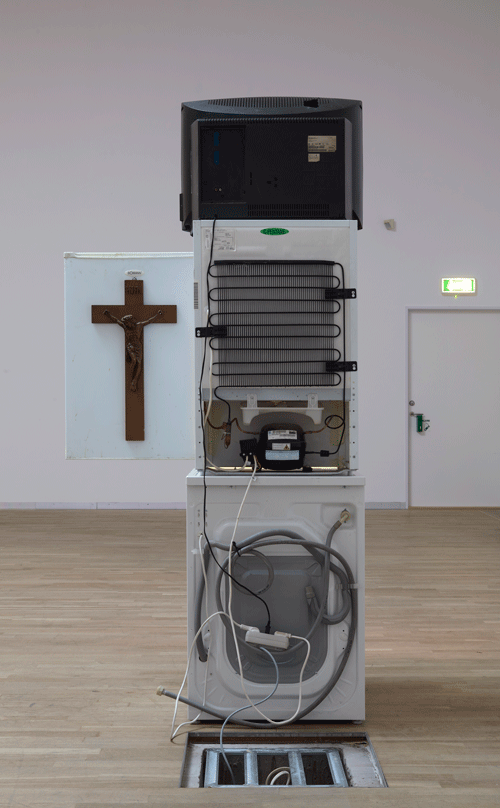 Danh Vo, Oma Totem, 2009
Maybe 'everyday objects' is the wrong term to use for my production because the way I refer to objects in my work is not about the everyday object in itself. I'm interested in building up and sustaining a certain way of thinking which enables you to look at objects in a different manner. Thinking is the starting point for looking at things.
For example, my piece Oma Totem (Grandma Totem, 2009) combines a washing machine, a refrigerator, a crucifix and a television set, which all used to belong to my grandmother. The selection was made on the basis of a conceptual approach: these are the first things that my grandmother received in Germany. Thinking determined the sculpture – not the fact that it was a fridge or a crucifix.
One of my earliest experiences of things not necessary being what they seem to be was my experience of vacation. Half my family lived in Germany, and the other half, including myself, lived in Denmark. Every summer, when all the kids had summer vacation from school, we went to visit our relatives in Germany. My family didn't really have an idea for vacation. In the summer, they would work either in the strawberry fields or peeling small shrimps that were delivered to and picked up from their homes. I think it was more about spending time together, but that meant work. This was my first idea of vacation, and I have only good memories of it. Like all the other kids returning sunburnt to school. We always look at things through our own history, our gender and social upbringing. Most everyday objects and conventions are very unfamiliar for me. And it's through this empirical experience that I do what I do.
From Frieze d/e, Issue 2, 2011.