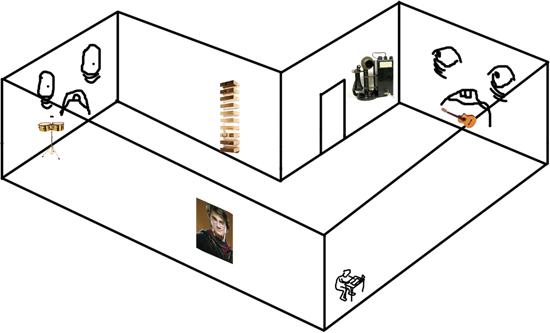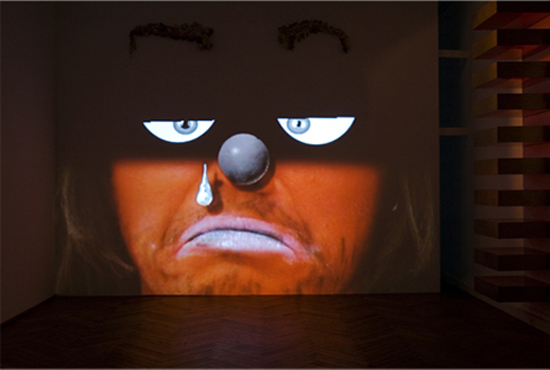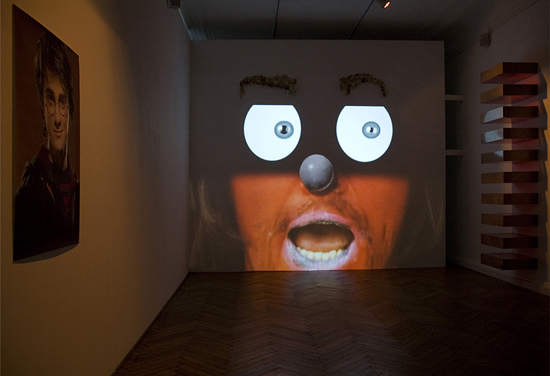 Egill Sæbjörnsson in collaboration with Karolin Tampere, Installation view, 2008
Egill Sæbjörnsson (born 1973, Reykjavik / IS) graduated from the Icelandic College of Arts and Crafts (now the Icelandic Academy of the Arts) in 1997 and studied at the University of Paris, St.Denis, from 1995 to 1996. Since 1999 he shares his time between Reykjavík and Berlin. His art is an unusual fusion of music, sound, video and installations in addition to which he often appears himself as part of his exhibition projects. From the start of his career he has handled different media and expressive idioms with remarkable facility. He harnessed computers, projections and musical instruments in his performances where he himself took on a different persona in each new context. He has a whole career in music and has released his music with record companies and music is an integral part of his many performance projects.
In recent installations Egill has used video, sound and sculptural installations to create a sort of cabaret in the gallery with cut-out figures and artworks that speak and sing and even interact. There are numerous echoes from art history, including Dada-evenings in the teens and twenties, and the artworks themselves comment out loud on such references.
Egill's recent exhibitions in Iceland include a large installation at the National Gallery in 2004, a solo exhibition in Gallery 101 and an exhibition with Magnús Sigurðsson at the Living Art Museum. In 2004 Egill was invited to take part in the international workshop programmed at Künstlerhaus Bethanien in Berlin. He has also exhibited widely abroad, most recently in Berlin, Vienna, Skopie, Lubliana and London.