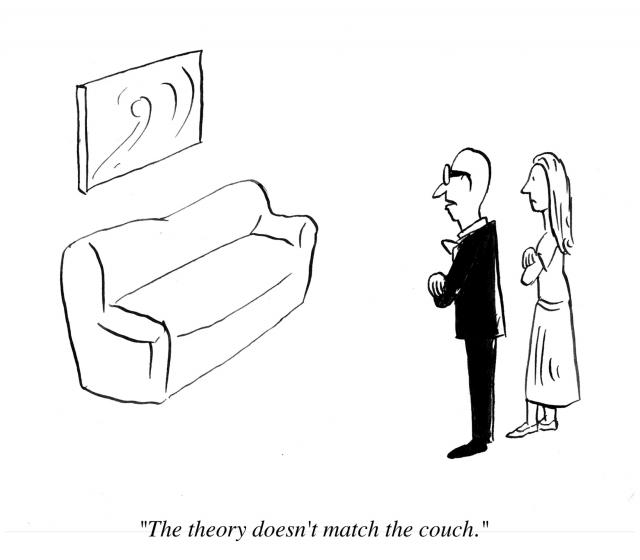 In october 2005 Frieze asked 33 artists, collectors, critics, curators, educators and gallerists How has art changed?
With the proliferation of museums, biennales and fairs, and the sheer amount of work now being made, shown, and sold, the art world has obviously changed substantially over the last 40 or so years. But what have been the most important shifts in art and the structures that surround it?
Iwona Blazwick
A critic, art historian, lecturer, broadcaster and Director of the Whitechapel Art Gallery, London
The last four decades are both a legacy of the 1960s and a betrayal of their revolutionary potential. We can thank the Feminist and Civil Rights movements for making our art world massively more inclusive. The dematerialization of the object of art and its expansion into idea or phenomenon have made it possible for a text, an action or an environment to be understood as art and for Modernist realism to continue by other means. Early experiments with Super 8 and video laid the groundwork for the colonization of the art world's time and space by the moving image, while the lens has attained equal status with the paintbrush. The entry of Structuralism, psychoanalysis and anthropology into theories of art has rocked the boat of aesthetics and evolved into an insistence on subjectivity and participation as integral to meaning. The spirit of collaboration and the co-option of empty property that was a hallmark of so many artists' groups in the 1960s continues to live on generating a mobile but sustained network of laboratories for art. It's an expanding field that has also become increasingly professionalized, commercialized and spectacularized. The last 40 years have marked the rise and proliferation of curators, collectors and architects specializing in making museums into powerful corporate brands that are intended to provide mass entertainment, generate tourism or solve social problems. Art has moved from margin to centre, with all the losses and gains that this entails.
Teresa Gleadowe
Director of the MA Curating Contemporary Art at the Royal College of Art, London.
In the summer of 1966 the Arts Council presented at the Tate Gallery 'The Almost Complete Works of Marcel Duchamp', the first major retrospective of the artist's work to be held in Europe. It was selected by Richard Hamilton, who wrote the one-page introduction to a catalogue designed in classic Modernist style by Gordon House. With its Monotype Univers text, monochrome illustrations shown approximately to scale, modest selection of six colour plates and discreet scholarly tone, this understated but informative publication speaks eloquently of a particular set of assumptions about the purpose of art. There is no expectation of box office or of universal appeal. Forty years on the continuing influence of Duchamp on art theory and practice is still felt, but the world of art is no longer a separate sphere. It is now permeated by the art market, by business and political interests, and by the values of the 'creative industries'. The museum building boom of the late 1980s continues, linked to agendas of economic regeneration. Biennials have proliferated, and supranational museum brands have been established. The audience for art has exploded in size, with a growing emphasis on diversity and education. Electronic communication has increased the speed at which an exhibition or publication can be realized, and international travel has become an essential component of the activity of the artist or curator. Art has become a globalized field, no longer bounded by the physical presence of the work of art.
Dave Hickey
An art critic who lives in Las Vegas, Nevada.
First, I am not a part of this any more. I am still writing but obsolete, a dead man walking. Most of my younger colleagues, the art critics who should be in the ascendant today, died of AIDS in the 1980s. Those that survive are academics or tabloid celebrity geeks. Art dealers who once represented an informed aesthetic now show one of each. Museum directors and curators who once proudly promoted an engaged view of things now show one of each. Magazines that once implemented an informed agenda, now publish one of each, pro and con. With the exception of collectors, everyone in the art world today is either a public servant or journalist, a poll watcher or a bean counter, implementing 'fairness'. With the defection of critics, curators, museum directors and editors from the realm of informed decision-making, only collectors vote on new art, so they drive the market, which, as a consequence, is radically front-loaded, frivolously quixotic and egregiously sentimental. Other than that, everything is peachy.
Matthew Higgs
Director and Chief Curator of White Columns, New York.
My feeling is that only a nostalgic (or curmudgeon) would argue that things were better (or, even, more interesting) in the 1960s, 1970s, 1980s or 1990s. 'Right now', i.e., the present tense, is always the best time for what we do. Certainly there have never been more people interested in and involved with contemporary art, which is a good thing. ('Art for all', as Gilbert & George might say.) I know that some people grumble about art fairs and biennials, but these are probably the same kind of people who would grumble about their favourite bands becoming popular. Technology insists that things happen and are absorbed a lot quicker these days, but that's OK too. (Only romantics would have it another way, and don't forget: Ars longa vita brevis.) What's sad? Call me old-fashioned, but art seems to be losing its regional dialects and accents, becoming instead a kind of visual Esperanto, but, hey, you can't have everything. What's bad? The art world remains too professional and too bourgeois … some things, I guess, will never change.
Olu Oguibe
An artist who has exhibited his work in biennials and triennials around the world, and also curated major exhibitions for numerous spaces, including Tate Modern and the Venice Biennale.
Over the last 40 years contemporary art has witnessed few significant changes besides the numerous trends and fads that provide the art world with much-coveted entertainment. Photography gained prominence. Video art failed to fulfil its early promise. The much-touted dematerialization of the art object proved to be a mere discursive fantasy, as even 'new media' artists continue to privilege the marketable object. Eventually cynicism has replaced genuine curiosity and engagement even in post-colonial contemporary art. More significant, however, is the consolidation of women artists' place in discourse, display, documentation and practice. Despite continued gender disparity in visibility and remuneration, women artists have registered their presence beyond contest or erasure. This is particularly important because younger artists can now take the possibility of success and recognition for granted. Equally significant is the decline of the critic as a culture broker. Of course, critics remain important arbiters of taste, but the all-powerful, fate-determining critic that emerged especially in mid-century America and brokered careers, movements and canonical paradigms, leaving powerful imprints on the discourse of contemporary art, is no more. Today that role is played by the curator. That, too, will change. Regrettably, artistic autonomy has also declined. In the 1960s and early 1970s artists boldly and consciously distanced themselves from the establishment, and in the process opened refreshing avenues for expression. However, that independence is all but completely ceded today as artists jostle for position and jockey to mortgage their work, careers and convictions for success, thus relegating themselves to pawns in the culture game.
http://www.frieze.com/issue/article/how_has_art_changed/