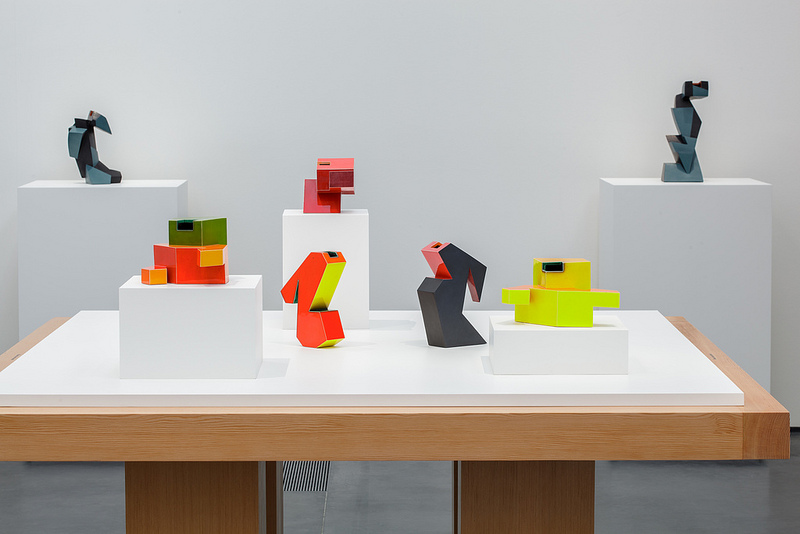 Installation view: Ken Price Sculpture: A Retrospective, geometrics, 2013
Ken Price Sculpture: A Retrospective, June 18 – September 22, 2013
The Metropolitan Museum of Art, New York
The first major museum exhibition of Ken Price's work in New York, will trace the development of his ceramic sculptures with approximately sixty-five examples from 1959 to 2012. The selection range from the luminously glazed ovoid forms of Price's early work to the suggestive, molten-like slumps he has made since the 1990s. In addition to the sculpture, the exhibition will feature eleven late works on paper by the artist. Price's close friend, the architect Frank O. Gehry, designed the exhibition.
Price was born and raised in Los Angeles, California. Price's earliest aspirations were to be an artist, "As far back as I can remember, I always wanted to be an artist. Even when I was a kid I would make drawings and little books, and cartoons..," he states. Price enrolled in his first art ceramics course at Santa Monica City College in 1954, where he quickly embraced a formal craft tradition as espoused by Marguerite Wildenhain. He subsequently studied at the Chouinard Art Institute in Los Angeles, before receiving his BFA degree from the University of Southern California in 1956.
In the 1950s Price lived along the Pacific coastline, where his interest in surfing and Mexican pottery developed. During surfing trips in Southern California, Price and his friends, "always made a point of hitting the curio stores in [Tijuana], because they had great pottery. …just looking was a great education in earthenware pottery." Price's ceramic work at USC could be characterized as functional vessels derived from a folk pottery tradition.