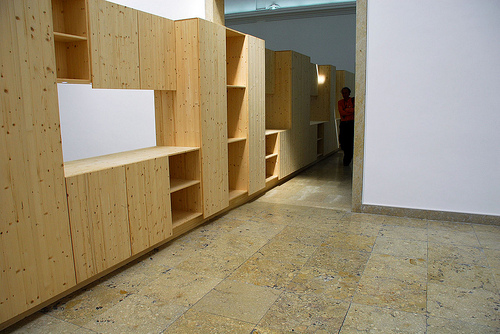 Liam Gillick, German Pavilion at Venice Art Biennale, 2009
Born in England in 1964, Liam Gillick emphasizes his roots in postwar Europe and his consequent distrust of authority as major influences in his curatorial techniques and artistic practices. Currently working in London and New York, "engaged with the processes of the everyday," he rejects the use of the term "contemporary art" citing it as historical and redundant.
Working in a variety of different mediums including large-scale installations, inkjet prints, and music, as well as curatorial projects and theoretical writings, Gillick's work transcends disciplinary categories. In 2009, he was selected to represent Germany in the Venice Biennale, and he was nominated for the prestigious Turner Prize in 2002. Gillick has been the subject of numerous exhibitions, including a retrospective at the Hessel Museum of Art at Bard College in 2012, as well as solo shows at institutions including the Museum of Contemporary Art in Chicago (2009), Rotterdam's Witte de With (2008), Kunsthalle Zurich (2008), the Palais de Tokyo in Paris (2005), and the Museum of Modern Art (2003). He has also contributed to magazines and journals such as Frieze, Artforum, and October.