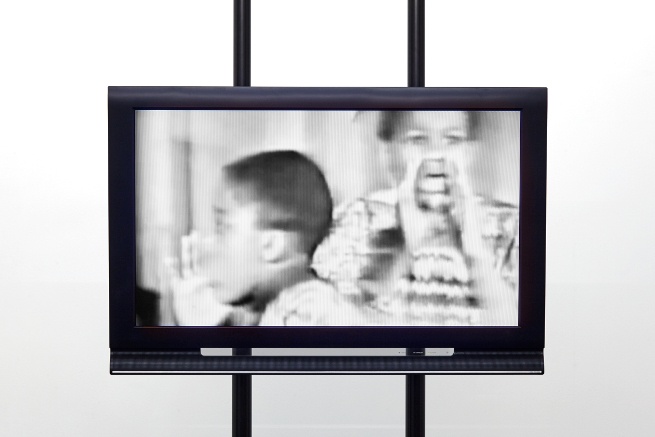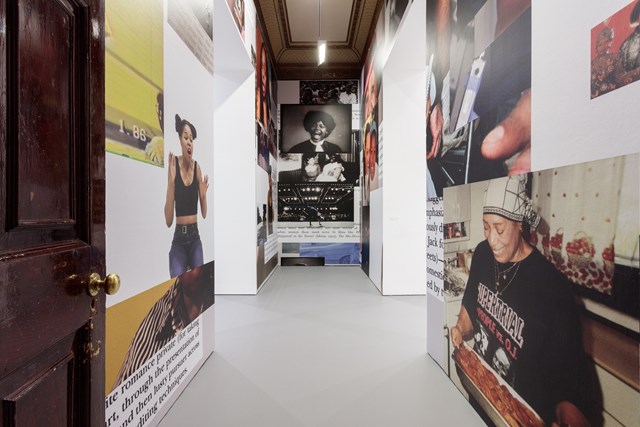 Martine Syms, Fact and Trouble, Lessons I-XXX, 2014, Motivational Text Message and Installation View of Fact and Trouble, 2016
Fact & Trouble is an exhibition by American artist Martine Syms that examines the space between lived  experience and its representation. Syms's video series Lessons (ongoing), on view at the ICA, is a long, incomplete poem in 180 sections. Each piece is thirty seconds in duration and articulates a lesson from the tradition. One of these lessons is painted on the gallery walls. The videos use the idea of inheritance as a departure point, simulating the private-public unconscious of television shows, advertisements, animated GIFs, police cams, surveillance footage, Vines and other digitally-circulated formats. In the alcove, this abundance of signifiers manifests in an immersive floor-to-ceiling collage. To accompany and expand upon the videos, Syms has created an installation of double-sided photographs and cookies mounted on century stands, a standard workhorse of film production. The exhibition compiles original and found photography, alongside images taken by her father, weaving together familial, cultural, and historical legacies. Fact & Trouble demonstrates Syms's multifarious artistic practice which includes video, performance and writing as well as publishing through her imprint Dominica.
Martine Syms (b. 1988) is an artist based in Los Angeles. Her artwork has been exhibited and screened extensively, including recent presentations at Karma International, Bridget Donahue Gallery, the New Museum, Kunsthalle Bern, The Studio Museum in Harlem, Index Stockholm, MOCA Los Angeles and MCA Chicago. She's lectured at Yale University, SXSW, California Institute of the Arts, University of Chicago, Johns Hopkins University and MoMA PS1, among other venues. Upcoming exhibitions include Made in LA at the Hammer Museum, Los Angeles, and Manifesta 11 in Zurich, Switzerland.
Source: Magazine Contemporary Culture.
Text: Press Release, ICA London.
All images belongs to the respective artist and managment.