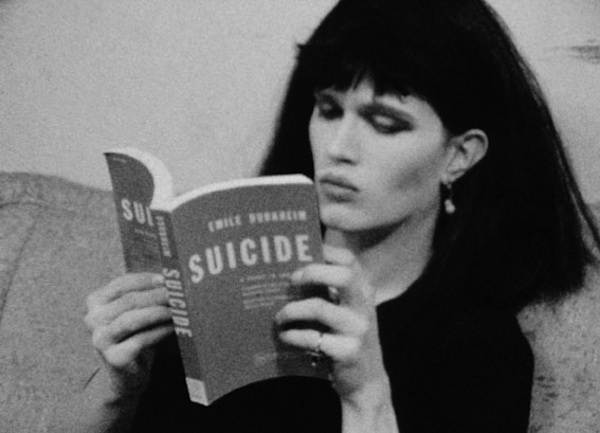 Richard Kern and Nick Zedd, The Manhattan Love Suicides: Thrust in Me, 1985, 35 mm, black-and-white, 35 minutes.
The Manhattan Love Suicides are a series of short films by Richard Kern: Stray Dogs, Woman At The Wheel, Thrust In Me and I Hate You Now.
"Stray Dogs" concerns an artist being followed thru the streets by an obsessive young man (a terrific David Wojnarowicz) who tries to gain his attention. He follows the artist back to his apartment and begins literally tearing himself apart in frustration – at this point the artist laughs at him and begins to sketch his dying body.
"Woman At The Wheel" follows a woman who takes her boyfriends (1 at a time) for a drive – but they only spark arguments and insist on taking the wheel. She eventually beats one of them senseless, and wrecks the car.
"Thrust In Me", stars Nick Zedd as both the suicidal girl and her thrusting boyfriend. Includes a great cameratrick orgasm of monumental proportions.
"I Hate You Now" features Tommy Turner as a facially deformed drug dealer and Amy Turner as his girlfriend. The film repeatedly taunts the notion of "deformity and ugliness" before ending in a serious iron-burn and a barbell suicide.
Richard Kern (born 1954 in North Carolina) is a New York underground filmmaker, writer and photographer. He first came to underground prominence as part of the underground cultural explosion in the East Village of New York City in the 1980s, with erotic and experimental films featuring underground personalities of the time such as Lydia Lunch, David Wojnarowicz, Sonic Youth, Kembra Pfahler, Karen Finley and Henry Rollins in movies like The Right Side of My Brain and Fingered. Like many of the musicians around him, Kern had a deep interest in the aesthetics of extreme sex, violence, and perversion and was one of the leading lights of the movement which Nick Zedd coined the Cinema of Transgression.
Kern's first dabbling in the arts was a series of self-produced underground magazines featured art, poetry, photography, and fiction by Kern and several friends. These hand-stapled and photocopied zines expressed the bleakness of New York City's East Village in the early 1980s. Kern's first zine was the bi-monthly "The Heroin Addict," which was later renamed to "The Valium Addict." About 12 issues of these two zines were produced, along with the occasional special issue. This phase of Kern's career lasted from late 1979 to around 1983.
http://www.imdb.com/title/tt0273777/