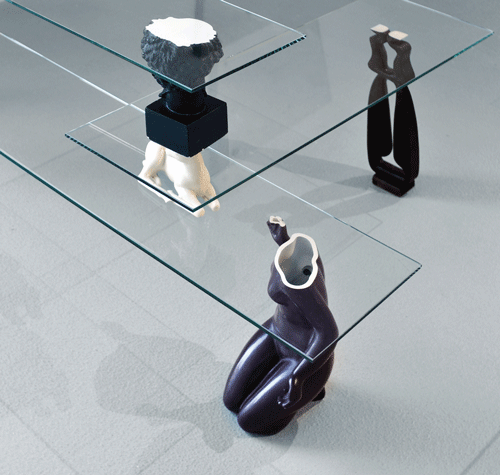 Nina Beier, Shelving for Unlocked Matter and Open Problems, Detail, 2010
Of any artist working today, 35-year-old hyper-mixed-media artist Nina Beier is creating some of the boldest examples of the contemporary artwork in crisis mode. This has a lot to do with the unstable, in flux, usually-referencing-something-absent, often-crushed-or-pieced-together, and likely-to-change nature of her sculptural explorations.
Take her seemingly straightforward work, On the Uses and Disadvantages of Wet Paint, 2010, which may look like a large blotch of test paint on a blank wall; instead, it's a savvy institutional critique on the art of backdrops, in which Beier raids a given museum's paint stockpile to reapply a new color on the same spot intermittently. Another example of Beier using the system against itself is her photographic piece What Follows Will Follow II: Installation shots of works from a previous show become the work framed in the next one, an idea that could breed an endless chain of recycled and re-rerecyled imagery.
The Danish-born Beier gets much of her creative impulses from philosophy and literature (Heidegger and Lewis Carroll are recent touchstones). But for all of the theoretical uplift, the end result is provocatively tactile. Her most recent productions include dipping photographic stock images in glue and hanging them to dry on mass-produced household items, thus using an image to utterly envelop an actual thing. Another series involves found secondhand fabrics stuffed together inside a frame to create an almost Arte Povera-esque surface on the verge of busting open.
Beier has been living in Berlin for the past three years after starting her career in London. "I moved mainly because I was attracted to the qualities of an underpopulated city," she says. "I guess the pace of the city is a little slower than other cities I have lived in, but I find the contrary to be true when it comes to the productivity of artists who live here."