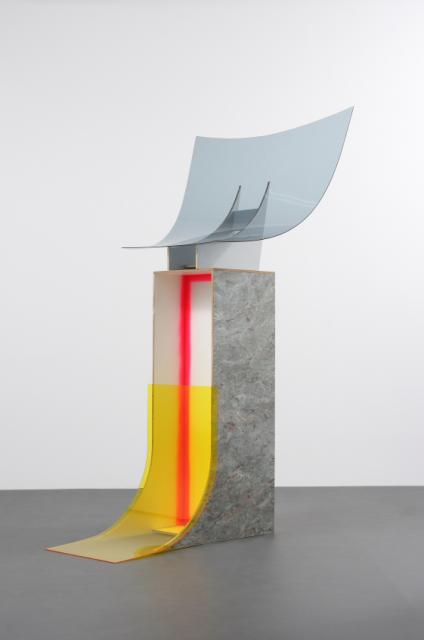 John Kleckner and Patrick Tuttofuoco, Those Ghosts, 2011
The works in this exhibition are about human figures dissipating into voids, into abstractions, and shape-shifting into solid structures. Transformation, transcendence, and transience are the core concepts fixed into 2- and 3-dimensional material permanence in each of the exhibited artworks.
In his newest works one can see John Kleckner transitioning from meticulously rendered rotting noses and metamorphosing cavemen, to poetic allusions/illusions of infinite (contemplative) space. Figures do still appear and certainly inform the works on view, but with this new direction and some new techniques, Kleckner has opened his practice to fully embrace abstraction. These works of ink on paper are a meditative union of carefully planned accidents and haphazard intentions.
Patrick Tuttofuoco's practice initiates a dialogue between individuals and their environment, exploring notions of community and social integration. Tuttofuoco's sculptures study this concept, relating it to solitary individuals and their ability to transform external reality. Tuttofuoco melds Modernism and Pop; he presses figuration into abstraction, using man as the paradigm of existence, as the matrix and measuring unit of reality. From this interpretative and cognitive process, infinite versions of man and the context of his existence are produced, from which shapes able to animate the sculptures are generated.
John Kleckner's (b.1978) work is included the collection of the Museum of Modern Art, NY (The Judith Rothschild Collection of Contemporary Drawings); The Saatchi Gallery, London; Magasin 3, Stockholm, Sweden; and The Deste Foundation Athens, Greece.
Patrick Tuttofuoco (b. 1974) has exhibited in: 10th Biennial of Havana, Kunstlerhaus Bethanien, Berlin; 50th Venice Biennale; Magasine, Grenoble; Manifesta 5; MAXXI, Rome; Museum of Contemporary Art Chicago; Fondazione Nicola Trussardi, Milan; Fondazione Sandretto Re Rebaudengo,Turin.