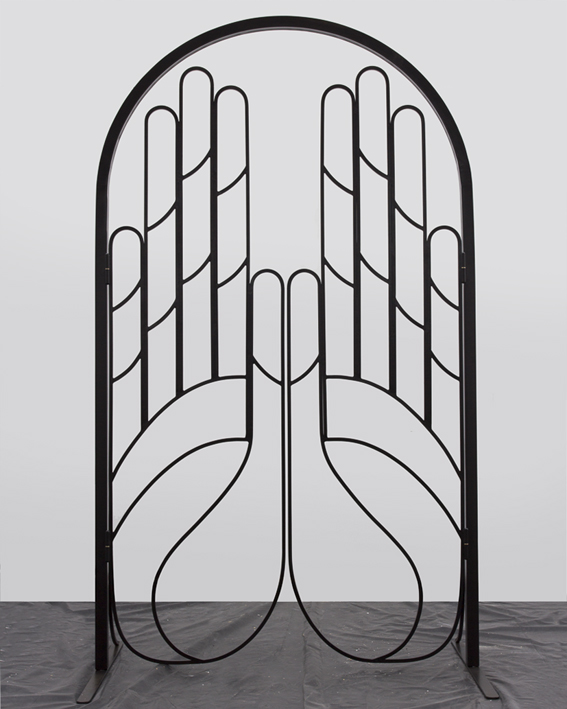 Zuzanna Czebatu, Happy-Go-Lucky-No I – III, 2016 and Within Meadows And Rolling Hills, 2016
Zuzanna Czebatul (born in 1986, Miedzyszecz) lives and works in New York. She graduated from the Städelschule, Frankfurt/Main in 2013. She is currently working towards her MFA at Hunter College, New York, as Fulbright Fellow. She is also a recipient of the 2015 SOMA Scholarship, Mexico City. Czebatul works as a sculptor, producing her own materials, and creating works that merge the differentiation between commercial product and artistic production. Her work is influenced by the aesthetics of ancient sculptures, modern forms of display and presentation, as well as the club culture of the 1990s.
"I grew up with rave culture and DJ a little bit today. Clubbing is a density of so much, the epitome of desire, break-out, expression, positioning. The way music leads the crowd in a certain direction, the side effects of reaching borders, the club itself is a place with it's own set-up of rules: all this is like a micro map of what we're looking for and it's diversity. Techno is symptomatic for this, an endless loop suggesting the possibility of salvation kicks for every weekend."
Working between media and place, Zuzanna Czebatul extends cognitive possibilities and relational aesthetics through the sculptural architectures of her installations. Reconfiguring spatial representations, Czebatul maps environments that read as site-specific studies from an aerial perspective.
"I've been always interested in the relationships between recipient and object, their context and the mechanisms of their display. There are hierarchies and power structures but in the end the viewer generates the value which makes all participating elements arbitrary. At the moment I am working on a six meter long plush sculpture in form of an broken obelisk, shattered on the floor. Quite the opposite of concrete and steel— a giant symbol of power, making space for something new in it's collapse, availing the positive aspects of destruction and ability to see 'chance' even in subjective moments of personal failure."
Czebatul has had solo exhibitions at Gillmeier Rech, Berlin; Opelvillen Rüsselsheim; and 1822-Forum, Frankfurt/Main. Her work has been presented in group exhibitions at Center, Berlin; 1m3, Lausanne; Heidelberger Kunstverein; and Villa Romana, Florence.