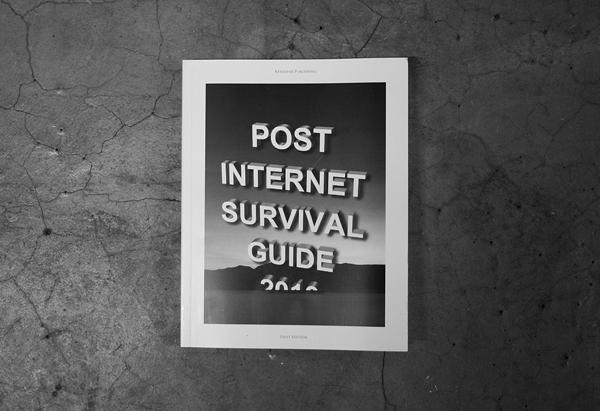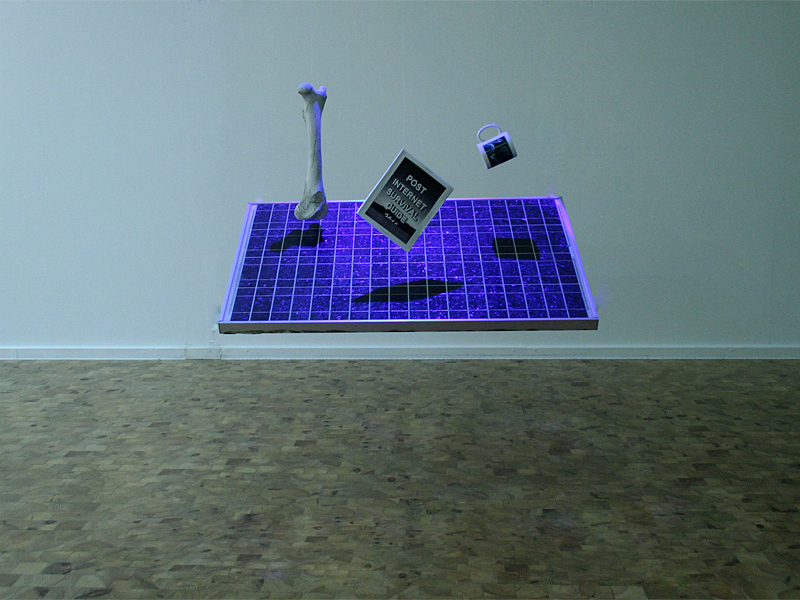 Katja Novitskova, Post Internet Survival Guide , 272 pages, 180 x 230 mm, Revolver Publishing, 2010
You are holding a guide to the ecology of a severe ongoing merging of matter, social and (visual) information in the present world. The shift to a multi-polar, mobile, post-democratic, gated, real-time set of conditions effectively redistributes the global balance of powers. The existing structures of our (Western) mode of thinking and being, including the flows of energy and value, the domain of aesthetics, the currency of art, and our role in the process that is civilization are being reshaped and re-articulated. The scale of these changes are reflected in the dynamics of formats, files, gadgets, species, identities, ideologies, brands, styles, cultures, natural disasters, memes, technologies, entering the ultimate platform and player of dissemination: Internet.
Post Internet Survival Guide 2010 is organized into chapters according to the first page of Google search results for 'survival guide': Size up the situation, Use all your senses, Remember where you are, Value living, Improvise, Vanquish fear and panic, Act like the natives, Learn basic skills. It crosses streams of seemingly unrelated information flows, from art and news, to corporate stock photography, screenshots and scientific renderings. Post Internet Survival Guide elevates selected content from its original fragmented online environment and solidifies its temporary values and meanings in a collection of guiding narratives.
This book is a tool to assist in stepping above our daily online routine, to reach a realm that lies somewhere between reading a principal religious text, watching a colonial documentary on savages, or looking at yourself in the mirror. This is the space where we ask ourselves what it means to be a human being today.
The book features texts and works by AIDS-3D, Aaron Graham, Adam Cruces, André Carlos Lenox & Evan Lenox, Anne de Vries, Artie Vierkant, Brad Troemel (The Jogging), Brian Khek, Constant Dullaart, Chris Lee, Christian Oldham, Damon Zucconi, Daniel Chew, Emily Jones, Gene McHugh, Iain Ball, Jaakko Pallasvuo, Jack Latham, Jacob Broms Engblom, John Transue, Jon Rafman, Kareem Lotfy, Kari Altmann, Kate Steciw, Katja Novitskova, Lance Wakeling, Lauren Brick, Lauren Christiansen, Laurence Punshon, Lorenzo Bernet, Louis Doulas, Martin Kohout, Matei Samihaian, Matteo Giordano, Micah Schippa, Mike Ruiz, Orlando Orellano, Pierre Lumineau, R-U-INS?, Rachael Milton, Sam Hancocks, Sebastian Moyano, Sterling Crispin, Tabor Robak, Timur Si-Qin and Yannic Joray.
http://katjanovi.net/postinternetsurvivalguide.html