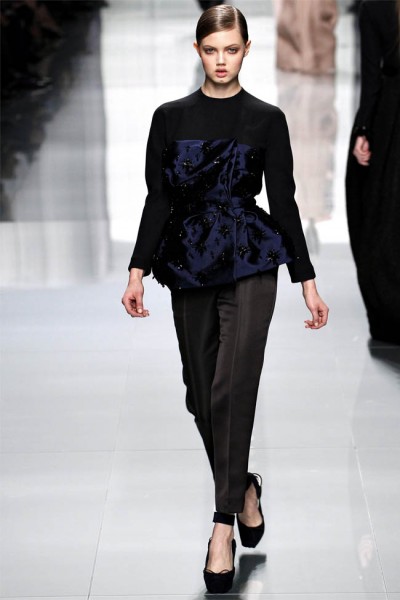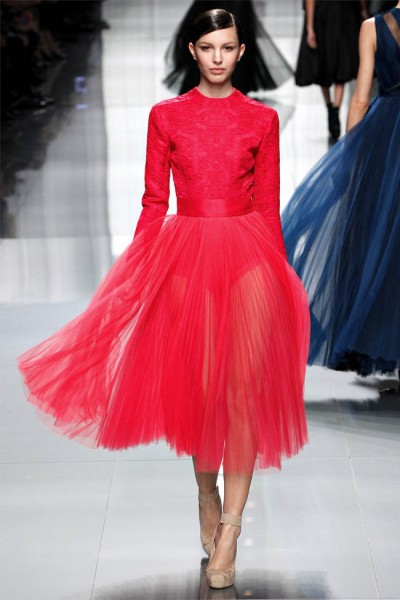 Bill Gaytten for Christian Dior, Fall 2012, Paris, 2 March 2012
The Christian Dior show today was a frustrating experience. The dither that has surrounded Dior since John Galliano's departure demands resolution, if only because you never again want to hear one single morsel of groundless speculation. With Dior's couture collection in July, it felt like Bill Gaytten was courting resolution by laying out his very capable wares. With today's show, it felt like he was putting them away again.

"Soft modernity" was Gaytten's theme. It was a notion whose nebulosity dogged the catwalk, where deflated New Look looks simultaneously evoked Dior's stellar past and its lunar (as in moonstruck) present. The show began well enough. The focus was on the waist—well, it would be, wouldn't it?—emphasized by a peplum's flare or a skirt's fullness.

Classic portrait necklines were literally twisted in leather. Equally classic houndstooth was exploded into an abstract pattern. The models' knit skullcaps were a streamlined touch. But then, where, in the past, you might have expected takeoff from such a restrained start, there was just more of the same. Perhaps there was some well-reasoned commercial point to that—and rumors suggest the label has been doing fine under Gaytten—but it felt like Dior by the numbers.

Program notes mentioned "a ballet femininity," and the full silk tulle skirts that made up the collection's evening component had a feel for that (particularly a shorter-skirted, long-sleeve raspberry outfit), but there was an intangible lifelessness to the clothes.

Maybe it all comes back to the peculiarity of Gaytten's challenge. How do you muster enthusiasm for your work when you have no clue what tomorrow may bring?