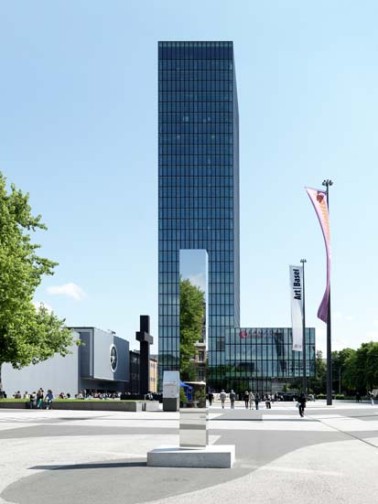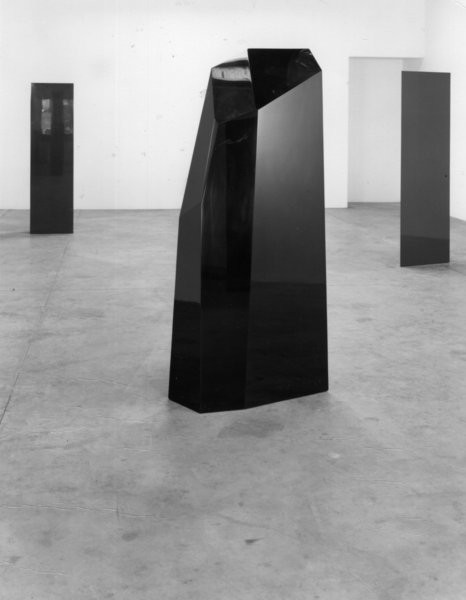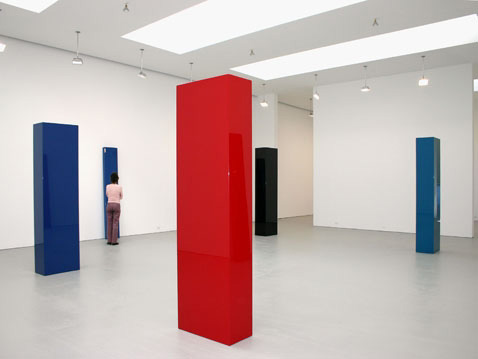 John McCraCken, Untited Sculptures, Installation Views
John McCraCken, Works from 1963–2011, 10 September – 19 October, 2013
David Zwirner, 537 West 20th Street, New York
McCracken occupies a singular position within the recent history of American art, as his work melds the restrained formal qualities of Minimalist sculpture with a distinctly West Coast sensibility expressed through color, form, and finish. He developed his early sculptural work while studying painting at the California College of Arts and Crafts in Oakland in the late 1950s and early 1960s. While experimenting with increasingly three-dimensional canvases, the artist began to produce objects made with industrial materials, including plywood, sprayed lacquer, and pigmented resin, creating the highly reflective, smooth surfaces that he was to become known for.
Drawn primarily from public and private collections, the approximately fifty works in this exhibition chart the evolution of McCracken's diverse but considered oeuvre. Encompassing both well-known and lesser-seen examples of the artist's production from the early 1960s up through his death in 2011.
Highlights from the exhibition include a room-size installation of six monumentally scaled black columns, a layout introduced by the artist in his sketchbook in the early 1970s, but first produced and shown at David Zwirner in 2006; as well as an adjacent room containing stainless steel sculptures from 2011, which are polished to produce such a high degree of reflectivity that they seem translucent and camouflaged, bordering on invisibility as they reflect their surroundings.
A number of works from the 1960s, when McCracken first emerged onto the Los Angeles art scene, are included in the exhibition, such as Untitled (1964), a cross-shaped hybrid form that vacillates between painting and sculpture; three multi-colored rectangular "slot" works, a form that McCracken first exhibited in his seminal 1965 solo show at Nicholas Wilder Gallery in Los Angeles; as well as several of the artist's earliest "planks," his signature sculptural form that he first generated in 1966 and continued to make throughout his career. These narrow monochromatic, rectangular board-shaped sculptures lean against the wall while simultaneously entering into the three-dimensional realm of the viewer. Also on view is Untitled (2011), the last plank that McCracken made in his lifetime, which is fabricated in stainless steel.
In 2015, the Orange County Museum of Art in Newport Beach, California will host a retrospective of McCracken's work.