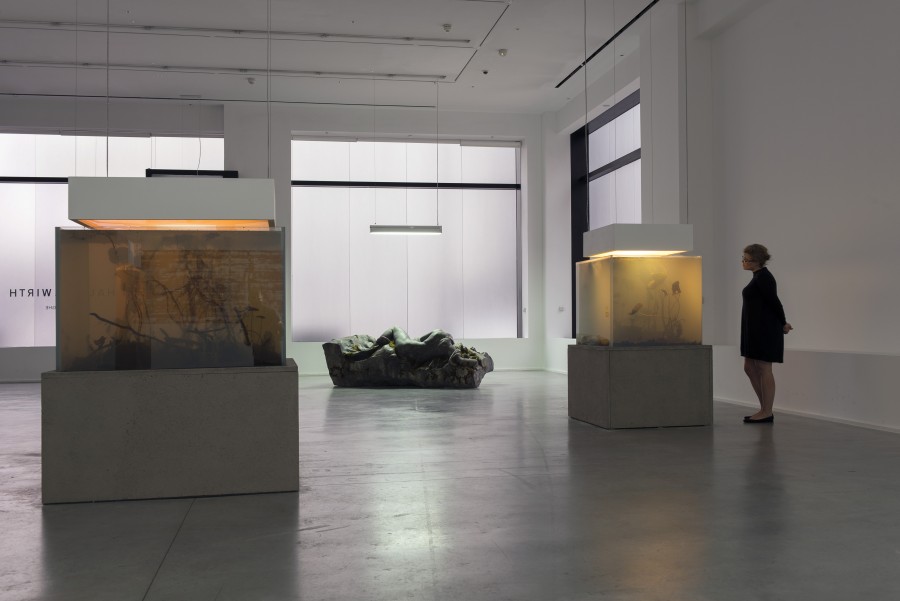 Pierre Huyghe, In Border Deep, 2014. and The Host and The Cloud, 2010
Pierre Huyghe (born 11 September 1962) is a French artist who works in a variety of media from films and sculptures to public interventions and living systems.
Describing his work can often be an exercise in frustration, bringing to mind the poet John Ashbery's observation about Roussel, an important influence on Mr. Huyghe: that trying to summarize Roussel's "mad wealth of particulars" was like trying to "summarize the Manhattan phone book".
Pierre Huyghe has long loved "Locus Solus," Raymond Roussel's 1914 novel about an inventor who invites friends to a secluded estate to show off his creations, one of which is a tank filled with cadavers that re-enact the most important moments of their former lives, animated by a miraculous substance called resurrectine.
Huyghe has been working with time-based situations and has explored the exhibition process from the 90's. His works imply such diverse forms as living systems, objects, films, photographs, drawings and music. In recent years, he has created self-generating systems, including living entities and artifacts, in which emergence and rhythm are indeterminate and exist beyond our presence. Taking the exhibition and its ritual as an object in itself, Pierre Huyghe has worked to change the paradigm of this encounter, exploring the possibility of this dynamic experience.
He has had numerous international solo exhibitions at such venues as the Los Angeles County Museum of Art, Los Angeles (2014); the Museum Ludwig, Cologne (2014); the Centre Pompidou, Paris (2013-2014); the Museo Tamayo Arte Contemporaneo, Mexico City, Mexico (2012); Museo Nacional Centro de Arte Reina Sofía, Madrid, Spain and the Art Institute of Chicago, Chicago, IL (2010); Tate Modern, London, England (2006); Moderna Museet, Stockholm, Sweden and the Irish Museum of Modern Art, Dublin, Ireland (2005); Castello di Rivoli Museo d'Arte Contemporanea, Turin (2004); the Solomon R. Guggenheim Museum, New York and DIA Center for the Arts, New York (2003); the Van Abbemuseum, Eindhoven (2001); the Museum of Contemporary Art, Chicago (2000); and the Musée d'Art Moderne de la Ville de Paris (1998).
He has also participated in a number of international art shows, including documenta XI (2002), XIII (2012); the Istanbul Biennial (1999); the Carnegie International, Pittsburgh (1999); Manifesta 2, Luxembourg (1998); the 2nd Johannesburg Biennial (1997); and the Biennale d'Art Contemporain de Lyon (1995).