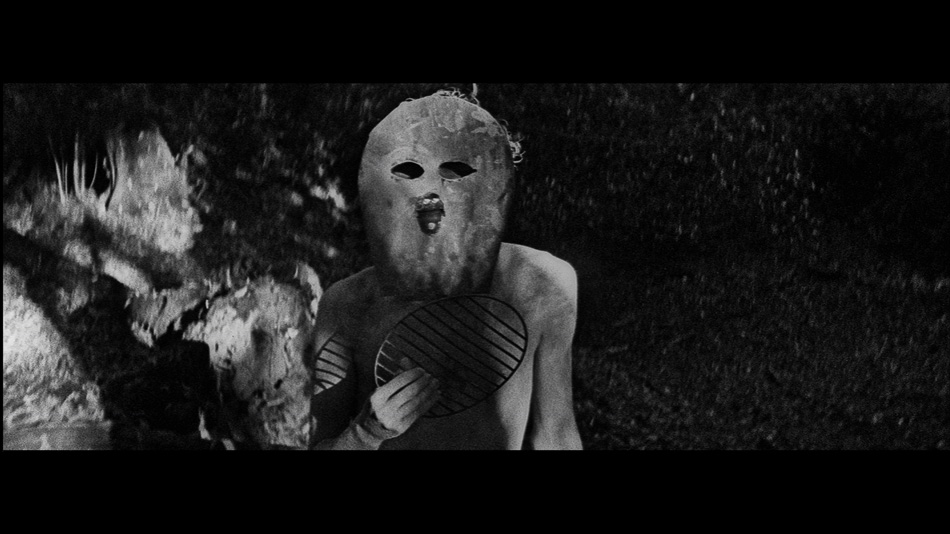 Still from Ben Rivers, Slow Action, 2010
Slow Action is a post-apocalyptic science fiction film that brings together a series of four 16mm works which exist somewhere between documentary, ethnographic study and fiction.
Continuing his exploration of curious and extraordinary environments, Slow Action applies the idea of island biogeography, the study of how species and eco-systems evolve differently when isolated and surrounded by unsuitable habitat,  to a conception of the Earth in a few hundred years; the sea level rising to absurd heights, creating hyperbolic utopias that appear as possible future mini-societies. This series of constructed realities explores the environments of self-contained lands and the search for information to enable the reconstruction of soon to be lost worlds.
The film's soundtrack, narratives by writer Mark von Schlegell, detail each of the four islands' evolutions according to their geographical, geological, climatic and botanical conditions.
Slow Action, inspired by novels such as Samuel Butler's Erewhon, Bacon's The New Atlantis, Herbert Read's The Green Child and Mary Shelley's The Last Man, embodies the spirit of exploration, experiment and active research that has come to characterise Rivers' practice.
Commissioned by Picture This and Animate Projects in association with Matt's Gallery, London.