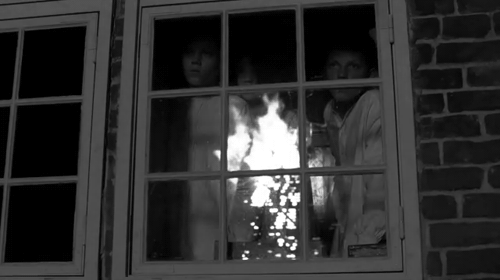 The White Ribbon is a 2009 black-and-white German-language drama film written and directed by Michael Haneke Das weiße Band, Eine deutsche Kindergeschichte, "The White Ribbon, a German Children's Story", darkly depicts society and family in a northern German village just before World War I and, according to Haneke, "is about the roots of evil. Whether it's religious or political terrorism, it's the same thing."
The film premiered at the 62nd Cannes Film Festival in May 2009 where it won the Palme d'Or, followed by positive reviews and several other major awards, including the 2010 Golden Globe Award for Best Foreign Language Film. The film also received two nominations at the 82nd Academy Awards in 2009: Best Foreign Language Film (representing Germany) and Best Cinematography (Christian Berger).
In Oberösterreichische Nachrichten, Julia Evers called the film "an oppressive and impressive moral painting, in which neither the audience nor the people in the village find an escape valve from the web of authority, hierarchy and violence. […] Everything in The White Ribbon is true. And that is why it is so difficult to bear."
Markus Keuschnigg of Die Presse praised the "sober cinematography" along with the pacing of the narrative. Keuschnigg opposed any claims about the director being cold and cynical, instead hailing him as uncompromising and sincerely humanistic. Die Welt's Peter Zander compared The White Ribbon to Haneke's previous films Benny's Video and Funny Games, both centering around the theme of violence. Zander concluded that while the violence in the previous films had seemed distant and constructed, The White Ribbon demonstrates how it is a part of our reality. Zander also applauded the "perfectly cast children", whom he held as "the real stars of this film".
"Mighty, monolithic and fearsome it stands in the cinema landscape. A horror drama, free from horror images", Christian Buß wrote in Der Spiegel, and expressed delight in how the film deviates from the conventions of contemporary German cinema: "Director Michael Haneke forces us to learn how to see again".
http://www.imdb.com/title/tt1149362/