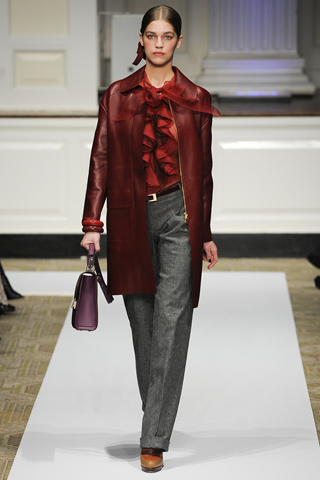 Oscar de la Renta, Pre-Fall 2012
For Spring, Oscar de la Renta gave us a refresher course on all the reasons we love him. The taffeta ball skirts! Those handkerchief lace dresses! The embellished gowns! The pre-fall collection he presented today on Park Avenue wasn't the ode to joy he put on back in September, but it served as a reminder that ODLR still has his charms when he's performing in a minor key.
Chief among them were a series of dresses, both to the knee and floor-length, cut from crinkled and pleated silk. Whisper-thin and nearly weightless, they're the kind of frock you'll turn to again and again when the weather warms: fabulous, but also easy. This may be the "awards season" season, but de la Renta didn't put a lot of red-carpet showstoppers on the runway. (We're guessing his Hollywood gals go to the atelier for some one-on-one time with the designer along with their one-of-a-kind gowns.) In their place were narrow beaded or sequined column dresses worn with matching bolero jackets that sparkled without being flashy.
That's a fitting description for this line all around. Out went Spring's harem pants in favor of elegant trousers in bold shades of marigold or ocean blue. And the show's most unforgettable coat came in wine red double-faced leather, not a stitch of embroidery or passementerie or what have you. On the more embellished side of the equation, silk Mikado dresses in Rothko-esque color blocks and Monetlike botanical prints, as well as a hooded fox vest clinched by a dragonfly brooch, stood out.